Archive for the 'compassion' tag
Money First
Life is cheap. At least it is if you are an animal, particularly a farmed animal. These animals are bred for profit, not love. Their lives, which in theory should belong to no one, are at the mercy of a human being—a human being's financial interests, that is—, and the remains of their lives are eventually on show for all to buy in your nearby butcher shop.
A healthy cow, sheep or pig isn't lucky; in the main, they are destined for a miserable and short life on a factory farm. But a sick animal has an even more desperate and forsaken time. As he or she becomes a drain on the farmer's purse, whatever natural human instinct to care and nurture this farmer may have gets lost. Many of these poor beings are left to suffer and die in fields or stock yards without so much as a painkiller, not to mention any actual medical attention.
This is modern farming. This is the story of the meat on your plate. When we are entrusted with a life, have we not a responsibility to ensure that life is free from pain and suffering? As for the pigs, sheep, cows and chickens that don't die before they make it to the slaughterhouse, how do we in the 21st century; value their lives?
Pig Love
Recently I had some bad news: a Kune Kune piglet with whom I had fallen in love and who was due to become a part of our home came down with all sorts of unexplained, difficult ailments as her arrival date loomed. The symptoms included breathing problems, joint swelling, and an odd way of weight bearing. The current guardian of "Peppa" (as I had already named her) was very honest and clear with me: Peppa had been born iron-deficient and was much smaller than the rest of the litter, and her current guardian felt there was a distinct possibility that further problems would arise over time. It seemed that by giving her a home, I was heading for heartache at worst and some serious vet bills at best. Her current guardian assured me that, should I decide not to take her, she would be able to stay in her current home for the rest of her life, which was some consolation, but how could I just refuse to take her now, at the moment she needed my care the most?
Weighing the Odds
A number of scenarios flashed through my head: the possibility of dealing with a very sick animal, and one of a species with which I had no experience; a chance she would not see her first birthday; unknown vet bills that may land on my doormat—unnerving, to say the least. Practically speaking, not having her with me wouldn't make a difference to her health; if she got sick, she would just be sick somewhere else.
But thinking it through was futile. It did not matter that Peppa may not be the perfect pig. There was no way I wasn't going to be there to care for her if the worst happened. I replied to her current caretaker to this effect, and the plans went ahead for her and another piglet's arrival. Foolhardy, maybe, naïve, possibly, but this time I was following my instinct, and mine was telling me to go ahead.
A Strange Coincidence
Soon after this bad news about Peppa's health, while I sat in a café, I couldn't help but overhear two women discussing their shopping and the price of food. They were talking about bacon and where they could get the cheapest bacon in town. I was transfixed. Here was I, about to take on the possibility of hundreds of dollars worth of vet bills to save a pig, and these people were arguing cents over the corpse of a dead one.
When did life lose its value in this way? When did we stop seeing meat as the dead remains of a once-living-breathing-loving being and start seeing it as something to buy cheaply and devour?
Somehow we have devalued other species lives to the point where we can happily haggle over their dead bodies without a thought for anything but our own finances. Next time you walk past a butcher's window or a delicatessen in your supermarket check out the prices, and you will soon work out the going rate for a life nowadays. The saddest part of all is that the poor mother of the animal that they were coldly discussing was not part of the economic decision—and was not able to tell anybody her baby was not for sale.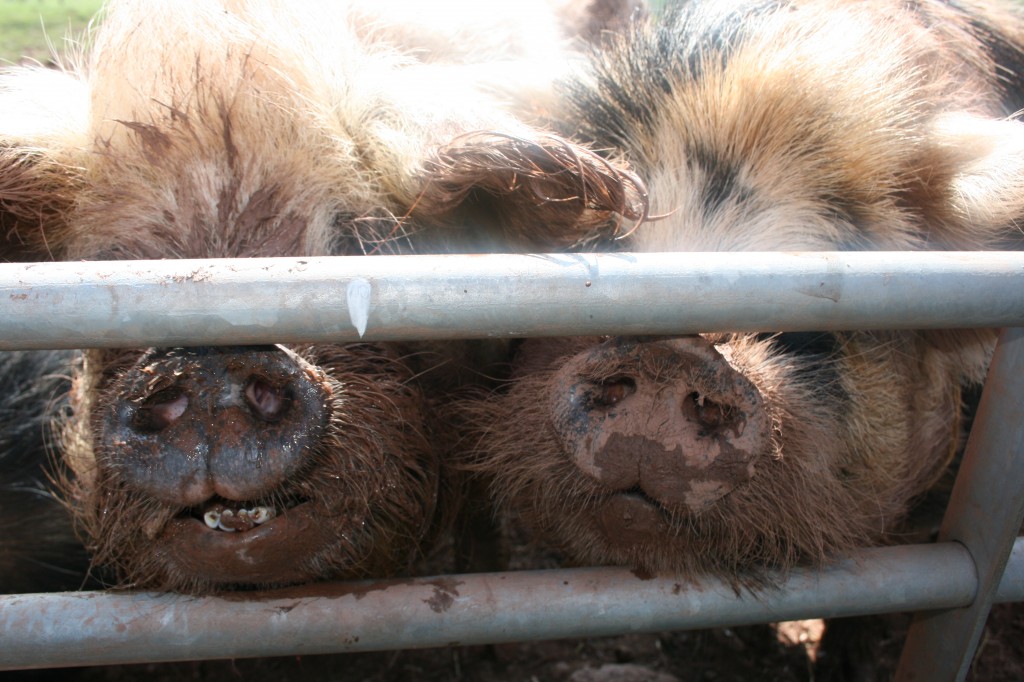 Why the Pig and Not the Human?
As responsible, loving humans we should be caring for those animals that cannot help themselves. We should not be ignoring them, taking advantage of their weaknesses, or sponsoring their suffering.
One may well ask why I am prepared to support my animals in such a way when so many humans are suffering. I have two responses:
I do support humans, too; my compassion is not limited to any one species.
I love that you care so much for other humans in need. By the way, how are you involved in helping them?
This last question is usually met with stuttering or silence. I have often found that those that interrogate animal supporters and caretakers rarely do anything practical or financial themselves to help needy humans. If they did, they wouldn't have to ask these questions. They would understand what it is to care, to give your life to something. They would respect the views of the compassionate because they would understand and share those views, know what is involved in raising money against the odds and helping those who seem to have so little worth to the masses.
Living beings are born, many get sick, and all die. We have a responsibility to all to make sure that when they are at their lowest moments, someone is there to give comfort, love, and, if needed, medical help. And this imperative includes all species, including pigs.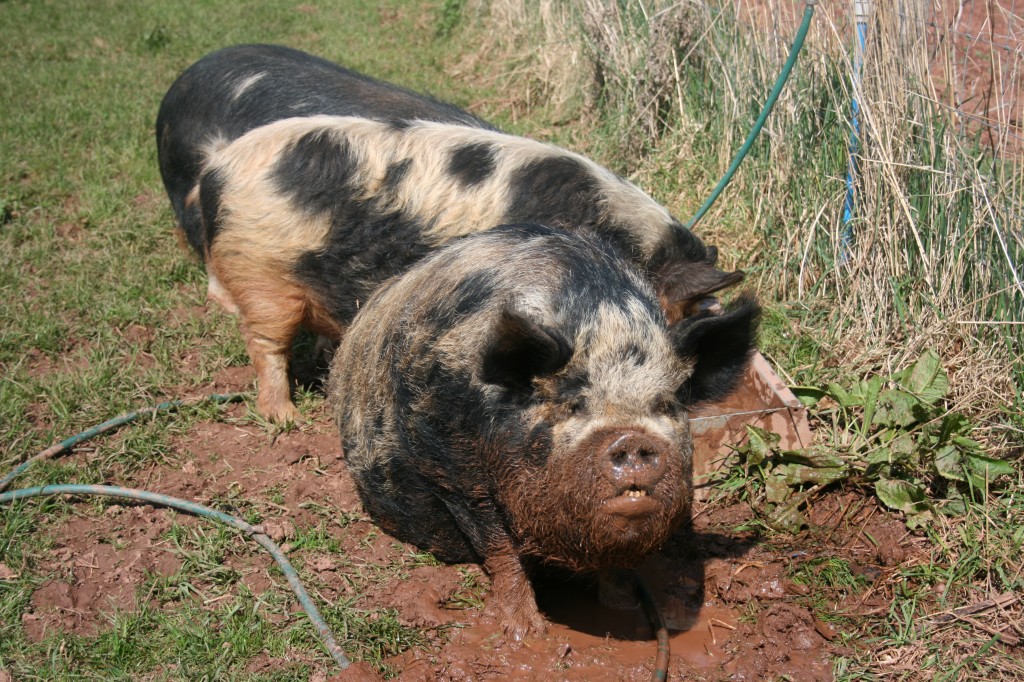 Who Knows What The Future Holds
It has been six weeks since Peppa and her friend came to live with me. So far, so good (knock-on-wood, fingers-crossed, etc). Other than the fact that she appears to be deaf, Peppa continues to grow, thrive and enjoy living a full life, just as any animal should.
I don't know what the future holds, but I do know this: should there come a time when things aren't so good for her, when she needs a vet, special food or round-the-clock care, I'll be there for her. I know that's true, because the moment I made the decision to bring her home was the moment I made a promise to her that I would never desert her, no matter what the future brings.
Spending time with Peppa, feeding her, petting her and hearing her grunt when she sees me coming is far more valuable than the entire contents of all the butcher shops in all the world. Sometimes, there are wonderful things that money just can't buy.
__________
Sally-Anne Ryan is a British artist and writer who uses her work to highlight the plight of animals all over the world. She happily shares her home with three failed show dogs, two rescued dogs, and ten former battery chickens.