Archive for the 'animal cruelty' Category
Vegan in Ventura
Great food that's good for you and for the planet—that's what we found at Mary's Secret Garden, a vegan restaurant in Ventura, California.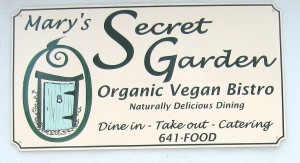 The atmosphere is quaint and artsy. Inspiring sayings decorate the ceiling ("Do not confuse what is habitual with what is natural"). Original paintings by local artist Patrick Raftery, available for purchase, adorn the walls. Mosaic café tables line the front of the restaurant, offering al fresco dining to small parties. In short, it is a welcome contrast to the boring chain restaurants that seem to be taking over these days.
A Meal to Savor and Remember
We began our meal with a trio of "cheezes" made from cashew, macadamia, and pine nuts, served with carrots and cucumber crudités for dipping—just one of the many raw food choices on the menu. Not quite the mouth feel of cheese, but still delicious. The smoothie of the day was piña colada, which, thankfully, we shared two-ways because it was as rich as it was delectable.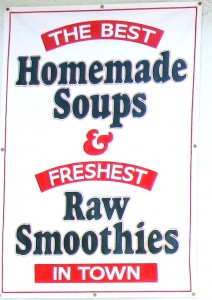 For my main course I ordered The Secret Burger "Mary's style"—extra sauce, pickles, avocado, and "fakin bakin." It certainly lives up to its billing as "The best burger ever." It confirmed my culinary philosophy about all sandwiches– If you start with good bread and use quality ingredients, it's going to be yummy. A sprouted wheat bun, cheese, lettuce, tomatoes, red onions, a vegan version of thousand island dressing, cornichon pickles, creamy avocado, and smoky "bakin" combined to create an exquisite balance of flavors and textures. A lightly dressed slaw of cabbage, kale, and herbs made an uber healthy side dish (maybe too healthy!).
BBQ?  Can Do!
My vegan dining companion satisfied his neglected craving for southern barbecue with a "chycken" sandwich. He shared a few bites with me, and we agreed that it was mouth wateringly good. The "chycken" was thinly sliced, with a perfect texture and lots of surface area for the deliciously sweet and tangy sauce.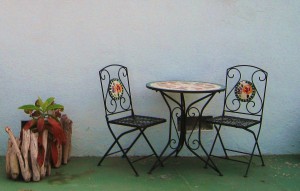 Ah, Dessert
For dessert we shared a piece of pecan pie a la mode. It was not a close imitation of traditional pecan pie; the nuts were cut into finer pieces, and the filling was more on the mousse end of the spectrum than the gooey stuff I'm used to. But, as with much fine vegan dining, the trick is to let go of what it's "supposed" to be and enjoy it for what it is – yummy! The ice cream, however, didn't require letting go of expectations. It was smooth and creamy, and I doubt I would have suspected it of being a cruelty-free alternative had I been served a scoop in a non-vegan restaurant.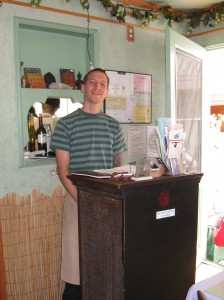 Our waiter, Mikey, was friendly and efficient.
Mikey, our waiter, fit the ambiance perfectly—polite, helpful, prompt, and with an unusual assortment of tattoos covering his arm (check out the eye on the inside of his elbow!). He did a double take when we returned the very next day for lunch! If it weren't for the hefty price tag—about $20 per person for a drink and entrée after tax and tip—, I would be tempted to eat at Mary's Secret Garden daily, but I regret that I'll have to be content saving Mary's for special occasions.
______
Following her graduation from Boalt Hall in 1999, M. Renée Orth practiced business litigation in California with emphasis on employment, real estate and banking law. She now focuses on philanthropic efforts while indulging her passions for vegetarian cooking and traveling.
Line Drawing
Law is about drawing lines. Over time, the lines shift. For instance, the lines between blacks and whites, men and women, gays and straights have, thankfully, moved dramatically in the past several decades. The time has come to question another line the law has drawn:  between the animals we love and those we eat or wear.
Questioning Business as Usual
There are encouraging signs that the legal lines between pets and farmed animals are being eroded. Following the lead of Florida, Arizona, Oregon and Colorado, last year California passed Proposition 2, which ensured that laying hens, pregnant pigs and calves raised for veal will have access to a minimum amount of space for at least part of each day. Last month the California Assembly passed a bill that would prohibit the sale of eggs from chickens confined to the battery cages made illegal in the state by Proposition 2, thus protecting California egg producers from competition from farmers in states without similar anti-cruelty provisions. The bill is now in the state Senate.
Another encouraging sign was a decision handed down last year by the New Jersey Supreme Court which unanimously rejected the New Jersey Department of Agriculture's blanket determination that all "routine" animal husbandry practices were "humane," such as docking the tales of cattle without anesthesia. The Court recognized that simply because a practice is common and accepted by the meat industry does not mean that it is exempt from anti-cruelty legislation. Apparently, our legal system is beginning to open its eyes and is taking a critical look at the inhumane practices that pass for business as usual.
One of These Things Is Not Like the Other
Of course, no state's cruelty laws prohibit the killing of animals for food, but this huge exemption warrants examination: is it a line of convenience or of logic? In the U.S., many people are opposed to the slaughter of horses for food, while in other countries horse meat is commonly eaten. Indeed, the abhorrence of Americans to the slaughter of horses is so strong that Congress considered legislation last year to ban the practice (it stalled in the Senate). In many states, including California, it is illegal to sell horsemeat for human consumption. What, other than our emotional ties to the likes of Black Beauty and Mr. Ed, is the relevant difference between a horse and a cow? Is the perceived beauty of a species a sound basis for distinction? In my opinion it's illogical and hypocritical to shed tears for the suffering of one species of animal, yet endorse the inhumane treatment of another species equally capable of experiencing pain. Other cultural and arbitrary examples abound—cows are sacred in India, and dogs are eaten in many parts of Asia, for instance.
Interestingly, in California it is a misdemeanor to sell, trade or give away "any animal traditionally or commonly kept as a pet or companion with the intent of using or having another person use any part of that carcass for food." California Penal Code section 598b(a). The law accepts tradition in lieu of rationality. I wonder how many animal rights advocates would have to keep a pig or a chicken as a pet before it would meet the definition of "common"? Of course, the legislators were careful to include a blanket exemption for livestock, "agricultural commodities" and wildlife, which begs the question: If someone raises dogs on a farm with the intention of selling them for meat, then are they not, by definition, a farmed animal kept for use and profit (i.e., "livestock") and thus exempt? When the law is guided by arbitrary discrimination instead of logic, the lines it draws cannot hold up to scrutiny.
An End to Injustice
My point, of course, is not that dogs, cats and horses should not be afforded the protection of the law, but rather, that the lines we draw should be drawn consciously and logically. Arbitrariness is a hallmark of injustice. Convenience, profit and tradition have been used to justify slavery, misogyny, and genocide, and they are currently being used to justify the mistreatment of animals. Hopefully, someday soon, we will hold ourselves to a higher standard—that of fairness, compassion, and logic—and afford all sentient beings the right to live free from unnecessary pain and suffering.
______
Following her graduation from Boalt Hall in 1999, M. Renée Orth practiced business litigation in California with emphasis on employment, real estate and banking law. She now focuses on philanthropic efforts while indulging her passions for vegetarian cooking and traveling.
"Crush Films" at the U.S. Supreme Court
The Supreme Court agreed on Monday to hear the government's appeal of a Third Circuit decision which struck down a 1999 federal law aimed at curbing videos depicting disturbing scenes of animal cruelty. In 1999, Congress enacted 18 U.S.C. § 48 aimed at ending the disturbing rise in the sale of "crush films" which, according to the legislative history, depict "women inflicting . . . torture [on animals] with their bare feet or while wearing high heeled shoes. In some video depictions, the woman's voice can be heard talking to the animals in a kind of dominatrix patter. The cries and squeals of the animals, obviously in great pain, can also be heard in the videos."
Specifically, the legislation prohibits interstate commerce of depictions of animal cruelty, which is defined as the intentional maiming, mutilating, torture, wounding or killing of a living animal, but only if the conduct depicted would be a violation of state or federal law where the recording was created or distributed. Furthermore, there is an exception for material with serious religious, political, scientific, educational, journalistic, historical, or artistic value.
Robert Stevens was convicted of three violations of § 48 and was sentenced to 37 months in prison. Stevens' conviction arose from his advertisement of three videos in Sporting Dog Journal, an underground publication featuring articles on illegal dog fighting: "Pick-A-Winna," "Japan Pit Fights," and "Catch Dogs." The first showed footage from dog fights in the U.S. in the 1960s and 70s, the second showed more recent dog fights from Japan, and the last one showed pit bulls attacking wild boar and domesticated hogs.
Stevens challenged his conviction, claiming that § 48 violated his First Amendment right to free speech. In striking down § 48, the Third Circuit reasoned that "No matter how appealing the cause of animal protection is to our sensibilities, we hesitate—in the First Amendment context—to elevate it to the status of a compelling interest." Put another way, the rights of people who sell animal snuff videos trumps society's interest in preventing deliberate and malicious torture.
Echoes of Injustice, Past and Present
In law school, students are taught to "think like lawyers," which, in many respects, means learning to analyze facts based on linear rules passed down by learned judges. A student commits these rules to memory and then, during exams, demonstrates his or her learning by applying these rules to specific facts so as to produce a result. In other words, we distill reality down to variables, plug these variables into equations and, voila, the outcome is supposed to be justice.
Unfortunately, as history teaches, the result is often far from just. Sometimes it is necessary to get out of the confines of this quasi-scientific approach to justice and take a good hard look at where it is taking us. Now is such a time.
The underlying rationale of the Third Circuit's Stevens opinion pits the rights of animals to be free from cruel treatment against the rights of U.S. citizens to free speech. This sounds eerily familiar to another recent match-up, namely, the torture of non-U.S. citizens versus the security of U.S. interests. In both cases, juxtaposition of supposedly competing values ignores the fundamental reality of the situation: just as the torturing of a human being demeans the humanity of all human beings, so does the torture of a defenseless animal demean the value of all life. Ignoring these moral realities does more to undermine our national security and the rule of law in our society than would the harms we're theoretically guarding against.
The myopic and warped views of the Third Circuit—and supporters of torture—are reminiscent of the backward reasoning the Supreme Court used in upholding segregation laws in Plessy v. Ferguson. In that decision—now universally condemned—, the Court said that if "the enforced separation of the two races stamps the colored race with a badge of inferiority … it is not by reason of anything found in the [segregation law], but solely because the colored race chooses to put that construction upon it." Put another way, the Supreme Court told African-Americans that the insult of segregation was in their heads.
Today we read this passage with disbelief, the same disbelief that will, in the not too distant future, accompany a reading of the Third Circuit's Stevens opinion.
Perhaps some readers will choose to be offended by my comparison of the lines we draw between groups of people and the lines we draw between people and animals. I would urge such people to consider the timeline of history and to see that the treatment of human beings and the treatment of animals follow the same trajectory. Recall, for instance, that both Christians and animals were maimed, tortured and slaughtered for entertainment in the Coliseum. The reality is that racism and speciesim are but two prongs of the same mistake. And discounting the suffering of other beings—be they human or non-human—is an error that we are, in fits and starts, overcoming.
Obscenely Disturbing
The First Amendment does not protect obscenity, which the Supreme Court has defined as something that appeals to the prurient interest, which is devoid of scientific, political, educational, or social value, and violates local community standards. In case "prurient" isn't a word in your lexicon, it means "marked by, arousing or appealing to sexual desire." In other words, if Robert J. Stevens' videos had shown dogs mauling one another in the midst of an orgy of consenting adults, he might be in prison today. What does it say about our society that we rate the evils of sexual arousal well beyond those of profiting from and encouraging the torture of animals? It says it's time to update our legal equations. I hope the Supreme Court agrees.
A human being is part of the whole, called by us 'universe,' a part limited in time and space. He experiences himself, his thoughts and feelings, as something separate from the rest—a kind of optical delusion of consciousness. This delusion is a kind of prison for us, restricting us to our personal desires and to affection for a few persons nearest to us. Our task must be to free ourselves from this prison by widening our circle of compassion to embrace all living creatures and the whole of nature in its beauty.

—Albert Einstein
_______
Following her graduation from Boalt Hall in 1999, M. Renée Orth practiced business litigation in California with emphasis on employment, real estate and banking law. She now focuses on philanthropic efforts while indulging her passions for vegetarian cooking and traveling.