Archive for the 'restaurant' tag
Vegan in Ventura
Great food that's good for you and for the planet—that's what we found at Mary's Secret Garden, a vegan restaurant in Ventura, California.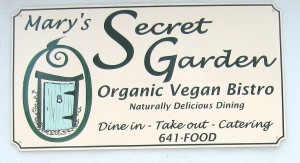 The atmosphere is quaint and artsy. Inspiring sayings decorate the ceiling ("Do not confuse what is habitual with what is natural"). Original paintings by local artist Patrick Raftery, available for purchase, adorn the walls. Mosaic café tables line the front of the restaurant, offering al fresco dining to small parties. In short, it is a welcome contrast to the boring chain restaurants that seem to be taking over these days.
A Meal to Savor and Remember
We began our meal with a trio of "cheezes" made from cashew, macadamia, and pine nuts, served with carrots and cucumber crudités for dipping—just one of the many raw food choices on the menu. Not quite the mouth feel of cheese, but still delicious. The smoothie of the day was piña colada, which, thankfully, we shared two-ways because it was as rich as it was delectable.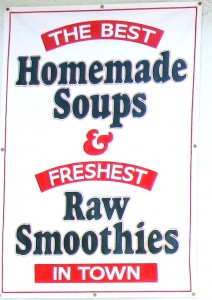 For my main course I ordered The Secret Burger "Mary's style"—extra sauce, pickles, avocado, and "fakin bakin." It certainly lives up to its billing as "The best burger ever." It confirmed my culinary philosophy about all sandwiches– If you start with good bread and use quality ingredients, it's going to be yummy. A sprouted wheat bun, cheese, lettuce, tomatoes, red onions, a vegan version of thousand island dressing, cornichon pickles, creamy avocado, and smoky "bakin" combined to create an exquisite balance of flavors and textures. A lightly dressed slaw of cabbage, kale, and herbs made an uber healthy side dish (maybe too healthy!).
BBQ?  Can Do!
My vegan dining companion satisfied his neglected craving for southern barbecue with a "chycken" sandwich. He shared a few bites with me, and we agreed that it was mouth wateringly good. The "chycken" was thinly sliced, with a perfect texture and lots of surface area for the deliciously sweet and tangy sauce.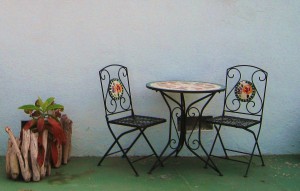 Ah, Dessert
For dessert we shared a piece of pecan pie a la mode. It was not a close imitation of traditional pecan pie; the nuts were cut into finer pieces, and the filling was more on the mousse end of the spectrum than the gooey stuff I'm used to. But, as with much fine vegan dining, the trick is to let go of what it's "supposed" to be and enjoy it for what it is – yummy! The ice cream, however, didn't require letting go of expectations. It was smooth and creamy, and I doubt I would have suspected it of being a cruelty-free alternative had I been served a scoop in a non-vegan restaurant.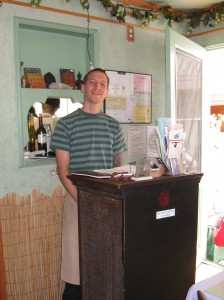 Our waiter, Mikey, was friendly and efficient.
Mikey, our waiter, fit the ambiance perfectly—polite, helpful, prompt, and with an unusual assortment of tattoos covering his arm (check out the eye on the inside of his elbow!). He did a double take when we returned the very next day for lunch! If it weren't for the hefty price tag—about $20 per person for a drink and entrée after tax and tip—, I would be tempted to eat at Mary's Secret Garden daily, but I regret that I'll have to be content saving Mary's for special occasions.
______
Following her graduation from Boalt Hall in 1999, M. Renée Orth practiced business litigation in California with emphasis on employment, real estate and banking law. She now focuses on philanthropic efforts while indulging her passions for vegetarian cooking and traveling.