At the place where highway 30
Crosses highway 109
I won't forget that summer day
Your frightened eyes met mine.
Through tiny oval openings
In your hell on eighteen wheels
I stared into your guiltless soul
Now I know how terror feels.
Your back was bruised and bleeding
The result of panicked feet
Attached to desperate bodies
Slowly baking in the heat.
How long had you been traveling
Would you make it there alive
Without a drop of water
Just how long could you survive?
I knew where you were going
And that you could sense the sorrow
If you made it through this brutal trip
You'd still not see tomorrow.
Your hopeless eyes engulfed my heart
That August afternoon
For the first time I looked differently
At my fork, my knife and spoon.
I wanted more than anything
To take you from that truck
To quench your thirst and heal your wounds
To somehow change your luck.
I knew those eyes would haunt me
Such despair I'd never seen
So I made you a promise that fateful day
Just before the light turned green.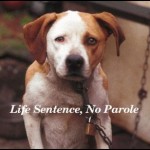 Twelve years ago this heavy chain
Became the world I knew
Rapidly the dust replaced
The space where grass once grew
At first I cried from loneliness
I haven't cried in years
I gave that up to hopelessness
They never see my tears.
When winter comes I dream of spring
As I shiver through the night
My water freezes into ice
While my world turns into white
When summer comes I long for fall
The sun is unforgiving
As my water quickly disappears
So does my thirst for living.
This circle of dirt beneath my feet
Has seen a million paces
As I have watched pass by me
At least a thousand faces
All of them too busy
To stop and be a friend
I'd pull and tug and wag my tail
The chain would always end.
Twelve years ago this rusty chain
Became the world I know
A world of isolation
A world where grass won't grow
A world of bitter coldness
A world of searing heat
A world where no one comforts you
When your heart beats it's last beat.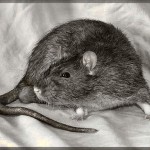 Vilified by Hollywood
Blamed for a disease
That dark, consuming shadow crept
Not from you, but from your fleas
You suffer undefended
At the mercy of men in white
Drugged, deprived, shocked, and sliced
Yet rarely do you bite.
Expendably inexpensive
To those easily seduced
By carnivorous constrictors
You're recklessly reproduced
Provisions for ball pythons
Uncomplicated prey
Confined inside four walls of glass
Victim of the day.
Your bodies are broken
With the sharp snap of steel
You writhe with convulsions
From a poisoned meal
Slow death by starvation
Immobilized in glue
A living being so despised
Just because you're you.
Your willowy whiskers vibrate
Teeth grinding like a purr
Your eyes contented little slits
As I caress your fur
Overflowing with affection
This guiltless little creature
To some may seem a curse
But to others, is a teacher.
I'm taking a break from poetry this month to talk about Jonahan Safran Foer's new book Eating Animals. I was so impressed by this book that I just had to write a short review.
Foer combines quaint stories about childhood, family, and food, with statements and interviews from individuals from all walks of life, including a vegetarian rancher and a vegan slaughterhouse designer. As eloquently written as Dominion by Mathew Scully, and containing impeccable research reminiscent of Slaughterhouse by Gail Eisnitz, Eating Animals took me on a personal and impersonal journey I won't soon forget. Foer is not a vegan advocate. And he is.
We see a piece of meat on our plate. Foer shows us the hows, the whys and the whos that put it there. He shows us the "good", the bad, and the really, really ugly. From seafood to cattle, we are shown one by one, the affects our food choices have on us, other human beings, the animals, and the environment. We realize his imperfections and our imperfections along the way, and we are forced to take a deeper look into our own souls.
This isn't a book about animal rights. This is a book about the humans we are and the humans we could be. This is a book about understanding, seeing, caring, questioning, changing, doing, being. It's about forgetting and not forgetting, acting and not acting. It's about weighing convenience with cruelty, weighing our desires with another's desires, weighing greed with compassion. On a moral scale, where do we stand now? Where do we want to stand? How do we get there?
I highly recommend this book to anyone and everyone. To vegans and non-vegans. To anyone who wants to make personal and not impersonal choices in their daily life. To anyone who wants to be a conscious consumer. To anyone who has a beloved companion animal they would not mutilate, lock in a dark closet, or kill. To anyone who doesn't have a companion animal, but still would not mutilate, lock in a dark closet, or kill someone else's.
Look inside yourself. Look outside yourself. Read this book!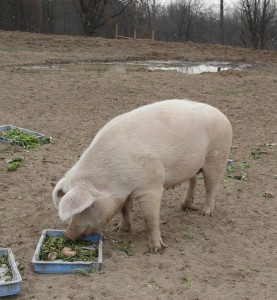 On a country road you sit alone,
Confused by passing cars.
Ears notched, tail cropped, someone's property,
Yet somehow, here you are.
Born into an industry
that sells you off for parts,
You must have seen the darkness-
Humans without hearts.
Did you sense your mother's sorrow
Before this fateful day?
Did you look into her desperate eyes
As you were ripped away?
Did you see her tiny prison?
The boredom she endured?
Did depression overwhelm you
With every cry you heard?
You sit outside the shadows now,
But what about the others?
Where are your suffering sisters?
Where are your brutalized brothers?
You're just one among billions,
Your life somehow spared-
Now you're given a chance
To find humans who care.
A lost little miracle,
You have so much to teach-
So many minds to change.
So many hearts to reach.
You're special, Tallulah,
And now you're on your way
To a place you only dreamed about
To live out all your days.
Your worried face grows more relaxed
And with every passing mile
Your pain and fear begin to fade
And I think I see a smile…
Smile, Tallulah, smile.
This poem is dedicated to Tallulah the pig who now resides at SASHA Farm, a farmed animal sanctuary in Manchester, MI. Merry Christmas to Tallulah and to all her animal and human friends at SASHA! To support SASHA Farm please visit: www.sashafarm.org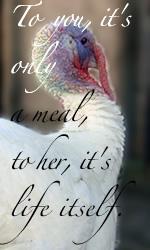 In a smothering sea of white
Gentle beauty is lost
Born and bred to be dinner
Whatever the cost.
Debeaked, detoed, crippled and weak
Disease running rampant
Your future is bleak.
In a huge sunless warehouse
Tens of thousands crammed tight
Kept like a secret
Out of mind, out of sight.
When your body is fattened
And you collapse from the weight
You are grabbed by rough hands
And sent to your fate.
Hung by your feet
Flapping and scared
Still conscious, confused
If only they cared.
Your neck is then slit
By a mechanized blade
As life drains from your body
You're alone and afraid.
Another beside you
Misses the knife
Still conscious, she's boiled
Slowly ending her life.
Neatly you are packaged
Shipped to every store
Butterball makes money
Spent breeding millions more.
Behind the tidy shrink-wrap
Is a mutilated bird
Who had feelings and emotions
And cries that went unheard.
In the name of "tradition"
Tens of millions will die
Somehow their sad remains
Seem so wrong with pumpkin pie.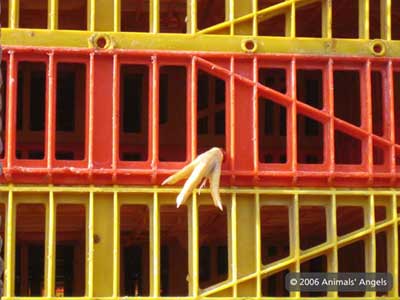 Through the growing crack in the delicate shell
A newborn's beak is seen
Then a damp and fragile body
Golden feathers to groom and preen
A tiny little blue-eyed girl
One of 50,000 others
All born without a nest of straw
All chirping for their mothers.
As days go by her body swells
Her legs begin to ache
The weight is so unbearable
That sometimes legs will break
She watches as others perish
On the feces covered ground
Not capable of reaching food
They starve without a sound.
After 42 short days of life
Still a baby at that age
She's violently yanked up by her feet
And thrown into a cage
Packed so tightly she cannot move
With miles of road ahead
Will she survive this brutal transport
Or be one of the many dead?
At her final destination
When the highway finally ends
She hears the terrified screams of family
The shrieks of frightened friends
With a pounding heart she sits and waits
She has no other choice
She can't tell them that her foot is stuck
She doesn't have a voice.
When this little girl with sad blue eyes
Is finally ripped away
From the crate that has become her hell
Her little foot will stay
Severed from her body
No one hears her cry in pain
But I'm not alone in crying now
For this little girl called "Jane."
_______________________
Heather Leughmyer is a vegan activist who uses poetry as a means to speak up for those who can't speak for themselves. She shares a home in the country with her husband, daughter, two cats, two dogs, and several rescued rats.
Her desperate cries could brand a soul
With agonizing sorrow
When the newborn son she had today
Is stolen from her tomorrow
This broken heart won't be her last
She'll never be a mother
While misery seeps into milk
That's swallowed by another.
The frantic way he kicks and fights
And tries to cling to life
While men in blood-soaked aprons
Coldly end it with a knife
How indifferently they slice and dice
What a horrifying fate
When muscle soaks up fear and pain
Ending up on someone's plate.
Despair has overcome her mind
As she takes each labored breath
Feces coat the rusty bars
Inside she waits for death
For her the torment just won't end
Though many more have died
Each egg absorbs depression
To be broken, flipped and fried.
When suffering is shrink-wrapped
It betrays so many lives
Few realize that they make a choice
With their spoons, their forks, and knives
When cruelty comes in a carton
And we can package pain
We must see past exteriors
We have so much to gain.
_______________________
Heather Leughmyer is a vegan activist who uses poetry as a means to speak up for those who can't speak for themselves. She shares a home in the country with her husband, daughter, two cats, two dogs, and several rescued rats.
Number 968 was born in July
Number 892 is nervous and shy
"Free to good home" was 843
Number 627 can no longer see
Number 585 scratches both ears
Number 417 has circled for years
Numbers 389 through 397
Were no longer needed
Now they're in heaven
Always tucking her tail
That's 213
Pain relief for 200
Remains to be seen
172 has lost so much weight
And tomorrow it's over
For 148
For 121 through 135
Tomorrow the test
That none will survive
Numbers 1 through 100
Have all been through hell
Behind each number now
Remains an empty cell
If consumers stopped the funding
It could just change a fate
It could just make a difference
For 9 hundred 68.
_______________________
Heather Leughmyer is a vegan activist who uses poetry as a means to speak up for those who can't speak for themselves. She shares a home in the country with her husband, daughter, two cats, two dogs, and several rescued rats.
Angels sway from side to side
Bull hook scars are hard to hide
Beauty blinks with empty eyes
As if to beg 'Please tell me why'
Innocence is bound by chains
Enormous grace, enormous pain.
Greed sees money on four feet
Property to own and beat
Indifference moves from town to town
Dressing sadness like a clown
Deception's free to come and go
For misery, on with the show.
Intelligence stands on her head
For a cheering crowd—she's all but dead
Callousness claims she loves her part
Then shoots compassion through the heart
Ignorance locks truth away
And peaceful souls will always pay.
Angels travel in cold and heat
Slaves to devils on two feet.
_______________________
Heather Leughmyer is a vegan activist who uses poetry as a means to speak up for those who can't speak for themselves. She shares a home in the country with her husband, daughter, two cats, two dogs, and several rescued rats.