Archive for the 'vegan' tag
Once again departing from the theme of this column (although I'm sure we can figure out a way to make eating great food a science!), this post features Carol Glasser's vegan cupcakes.
Many folks live under the impression that people who don't kill others have to sacrifice some of the finer things in life.  Like cupcakes.  Thank you, Ms. Glasser, for dispelling that myth in a most delicious—and aesthetically pleasing—manner.
A Little Culinary Confession
First, let's make one thing clear:  I can't cook.  I appreciate good food and truly admire folks who can bring together a fine meal (and sure do like to be invited to their houses—hint, hint!), but I am not such a person.  And that's putting it mildly. . . .
This reality caused me a bit of concern when I first adopted a vegan diet.  My only motivation for going vegan was that veganism is the ethical choice.  But, like most people in our culture, my eating habits until that time had relied largely upon dead animals (i.e., meat) and animal-exploitation products (e.g., milk, butter and eggs).  Without any real cooking or food preparation skills and without being able to rely upon the same old menu, I remember pouring that last gallon of milk down the drain and thinking, "Wow, I sure I hope I'll figure out a way to eat enough to survive." 
Surprise, Surprise
As it turns out, eating well—and eating better than I ever had before—has not been an issue.  A vegan diet—much to my surprise—turns out to be easier, safer and healthier than an animal-based diet.  And one company that is doing its part to make a vegan diet also a convenient diet is Sequel Naturals, which is based in Vancouver, BC, with U.S. offices in Blaine, WA.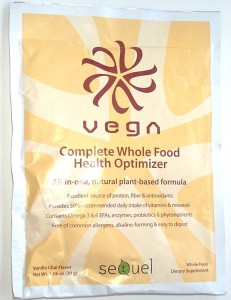 Sequel produces a line of vegan convenience foods called Vega.  Formulated by Ironman triathlete Brendan Brazier, Vega offers a wide variety of ready-made vegan meals that come in forms such as an energy bar or a powder that can be mixed with water.  Here's a quick guide.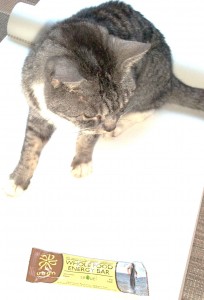 Vega Whole Food Energy Bar
Sequel's Vega Energy Bars condense a whole lot of nutrition into a small package.  The size of a standard candy bar, the Vega Energy Bar includes ten grams (10g) complete raw protein, six grams (6g) dietary fiber, and four-and-a-half grams (4.5.) of Omega 3 and 6 essential fatty acids.  Available in chocolate, berry, and natural flavors, I have thoroughly enjoyed incorporating Vega Energy Bars into my diet as an easy way to get in a good meal while on the go.
My favorite is, of course, the chocolate Vega Energy Bar.  And, since it's often hard to find any vegan chocolate items, I've particularly appreciated discovering Sequel's chocolate offering as both a yummy and good-for-you way to get my chocolate fix.
Left:  My favorite super-model, Kitty Witty Bang-Bang, showed up at the shoot while I was photographing the Vega Energy Bar. 

Vega Complete Whole Food Health Optimizer
Sequel's Vega powder is practically a feat of  food engineering.  Coming in a thirty gram (30g) serving that can be mixed with eight ounces of water to form a complete meal, the Vega Complete Whole Food Health Optimizer blows away my previous expectations of what a convenience meal could be.  To wit, this supercharged supplement provides:
Calcium equivalent to five (5) cups of milk
Fiber equivalent to seven (7) slices of bread
Omega 3 equivalent to six (6) ounces of dead salmon flesh
Potassium equivalent to six (6) bananas
Iron equivalent to twenty-nine (29) ounces of dead cow flesh
and a whole lot more
Moreover, two packages of the Vega Complete Whole Food Health Optimizer provide 100% of RDI of vitamins and minerals.   Such is  the power of a convenience food that has been extremely well designed.
Other Offerings
The Vega line from Sequel also includes the Vega Whole Food Vibrance Bar (Green Synergy, Chocolate Decadence, and Wholesome Original flavors), Vega Antioxidant EFA Oil Blend, and Vega Whole Food Smoothie Infusion.  All these products include the same kind of plant-based nutrition that makes the other Vega products special.
My recommendation:  a strong buy.  For more information, visit the Vega website from Sequel at http://www.myvega.com.
The Most Gruesome Photo Album of the Last Century
In 2007, the New York Times, NPR, and other media reported the discovery of a photo album containing what I consider to be the most gruesome photographs from all of the Second World War. But these photos do not depict a single dead or wounded body. They are far more ghastly even than that.
The album belonged to SS officer Karl Hocker, who was assigned to Auschwitz from May 1944 until liberation of the camp by the Allies. The photos show SS guards and their friends frolicking, flirting, decorating Christmas trees—engaging in all manner of activities that a seemingly "normal" human being would do. And all this took place in the shadow of—or in some cases within the actual walls of—a death camp in which these very same frolickers were daily murdering other human beings by the thousands.
Take a moment to recreate the context of these photographs. A man gets up in the morning, has breakfast, kisses his wife, gives the kids a hug, pets the dog on the head, and goes to work—gassing and cooking people to death, that is.
The Banality of Evil
Hannah Arendt (1906-1975) grasped the general notion as "the banality of evil" in her breakthrough 1963 work Eichmann in Jerusalem: A Report on the Banality of Evil. She argued persuasively and influentially that the greatest evils in history, such as the Holocaust, have been perpetrated not by sociopathic demons but by seemingly normal people who engaged unthinkingly in atrocities that were assigned to them by authority figures. The 1961 Milgram experiment at Yale and the 1971 Stanford prison experiment both appeared to reproduce a similar effect.
Compartmentalization: The Walls of Evil
Even if it is true that otherwise normal people—from Auschwitz to Stanford—can be relatively easily influenced to commit gargantuan acts of evil, the question to me that remains is simply this:  how is such a phenomenon possible at the psychological level? How did bank teller, husband and father Karl Hocker make the daily transition from these other roles to that of aiding and abetting mass murder?
I think the answer lies in the psychological notion of  "compartmentalization". Compartmentalization denotes the process whereby human minds engage in a form of what logicians call "confirmation bias". The gist of it is this: we tend to ignore, forget or "wall off" evidence that conflicts with our current views of ourselves.
For someone like Karl Hocker, compartmentalization allowed him to (i) accept evidence that reinforced the view of himself himself as a loving, competent bank teller, community member, Christmas tree decorator and family man and (ii) simultaneously ignore overwhelming evidence that he and his SS friends were completely psychopathic, serial-killing monsters. This is confirmation bias at its best (or worst).
In short, rather than integrate information and accept disconfirming evidence, the person who engages in compartmentalization can live essentially two distinct, disintegrated lives. Such a person is never forced to deal with the crisis of conscience that an integrated person would certainly face.
Compartmentalization is the wall that allows evil to run free within the mind of an otherwise seemingly healthy individual.
Pro-Survival Trait
If compartmentalization is indeed the grand enabler of evil, the question remains how compartmentalization ever evolved in the first place, since mass murder of one's neighbors would seem to be a trait that would get an individual quickly weeded out of the gene pool.
Upon close inspection, however, the positive effects of compartmentalization are not hard to identify. We are all fallible human beings, and each of us endures a large number of losses, setbacks, and injuries in our lives. If we were unable to set these things aside—ignore them, at least for a while—and move on, we would all eventually curl up in a fetal position and just waste away. Our first failure at something would be the last time we ever tried to succeed at anything. Our first romance-gone-bad would be the last relationship we ever undertook. Our first loss on the baseball field would be the last game we ever played.
Walling off information that would hurt or destroy one's sense of positive self-worth can thus be seen generally as a pro-survival trait. Only problem is that this trait, like many other pro-survival traits, may also have dire negative side effects.
Unthinking commission of mass murder probably qualifies as a negative side effect. . . .
The Most Gruesome Photo Album of the Next Century—Starring You
There's just one more little thing to cover in this article. It's a photo album that will be discovered and printed in the New York Times in the year 2109. And it's the most gruesome photo album anyone has seen since that of Karl Hocker.
Interesting thing about this album: just like Hocker's, there's no blood. No gore. No death nor even injury depicted. The photos just depict a happy family person who wakes up, kisses the spouse, hugs the kids, pets the dog, and heads off to work. This normal person in the photo album passes a slaughterhouse on the way to work, inside of which thousands of innocent, sensitive and intelligent pigs are being killed everyday. The star of the photo album never once thinks twice at lunch as he or she eats a piece of bacon.
That person is a master of compartmentalization.
That person is you.
_____________
Resources: "In the Shadow of Horror, SS Guardians Frolic"
http://www.nytimes.com/2007/09/19/arts/design/19photo.html?ei=5088&en=27740491a041f02f&ex=1347854400&adxnnl=1&partner=rssnyt&emc=rss&adxnnlx=1190242524-qvlKU37R0NQ1EEQwO3Jh1w
"Confirmation bias" at Wikipedia:
http://en.wikipedia.org/wiki/Confirmation_bias
"Self-Structure and Self-Esteem Stability: The Hidden Vulnerability of Compartmentalization "
http://psp.sagepub.com/cgi/content/abstract/33/2/143
_____________
Shelley Harrison teaches law, logic, writing and reading comprehension in Los Angeles, CA. Recipient of seven patents, Harrison is the author of Plutonomics: A Unified Theory of Wealth and a former Managing Editor of the Virginia Law Review.